Gift Cards
When you don't know what to give...
Easy gift with no expiration date!
Redeemable for any of our 10 activities.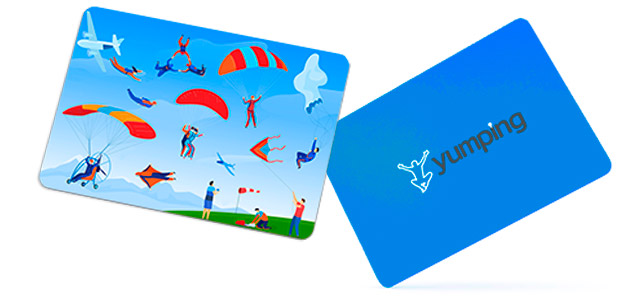 Tips if you are looking Weddings
Discover our wedding gift ideas!
You want to offer an unforgettable wedding gift, we give you some ideas of experiences that the newlyweds can achieve.
The wedding gift is to be personalized according to the couple to whom you are going to offer it. Yumping offers ideas adapted to all profiles! Adventures, stays, adrenaline... discover some ideas:
1.- Gifts for the most adventurous newlyweds:
- A
flight to be carried out as a couple
.
- An outing in the heart of nature
Hiking over one or more days
.
- A
vertical walk on the cliffs
Via Ferrata.
- And many more!
2.- For a 100% relaxing outing:
- An adventure at sea for a few hours or for a stay
cruises
.
- A
Air balloon ride
hot air balloon flight.
- An easy, romantic adventure accessible to all
Canoe rides
- Find even more ideas and Adventure tips for newlyweds
3.- Offer a stay for the newlyweds:
Offer a moment of relaxation as a couple to the newlyweds, a getaway or a stay as a wedding gift. We offer you different ideas for outings with accommodation thanks to our
Escapes
They include many outdoor activities to be done as a couple!
And above all, whatever activity you decide on, give him a big smile and a big kiss!
Weddings France
Great present ideas to buy your loved ones to do after they get married! France. Give the ultimate wedding gift and celebrate a couples big step by giving them something fun to do together after they get back from the honeymoon – or even as part of the honeymoon itself!
Offers of Weddings in France